USA Online Craps Guide For 2023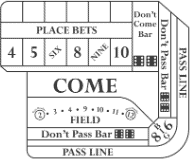 Did you know that you can enjoy USA online craps from your favorite PC or smartphone any time night or day? With the ever-expanding reach of the internet, the smart craps player can enjoy some of the best odds found in a brick-and-mortar or virtual casino.
The simple dice game dates back to the 11th and 12th century Crusades, and is one of the easiest casino games to learn. Bets are made before and after a throw of the dice, whether physical or virtual, and online craps offer some outstanding benefits and advantages to the American player.
Most Trusted US Online Casinos Offering Real Money Craps Games In 2023
| Casino Name | Bonus Offer | Rating | USA Friendly | Play Now |
| --- | --- | --- | --- | --- |
| Cafe Casino | $2,500 | 4.9 | Yes | Play Now |
| Bovada Casino | $3,000 | 4.7 | Yes | Play Now |
| Ignition Casino | $3,000 | 4.6 | Yes | Play Now |
| Slots.lv Casino | $5,000 | 4.6 | Yes | Play Now |
Playing Craps For Free
Most websites that offer USA craps games employ a free practice mode where you can learn the game. There is no catch and play is absolutely free. Many online casinos also offer tips on gameplay.
Playing online also means that you can pull up a craps odds sheet or betting tips tutorial in a separate window and improve your chances of winning. And with several bets which deliver a house edge of 1.52% or less, the crafty craps player can build their bankroll by making the right bet every time.
If you are a US citizen like we are, and you enjoy virtual Las Vegas style casino fun and excitement, you likely enjoy spending some free time at an online casino. Not every casino, sportsbook or poker room offers a free play option, but the top rated USA online craps casinos that we endorse do. It's a good way to get acclimated to the game before you start betting for real cash.
Bonus Offers
Locating generous USA craps bonus packages online is sometimes a difficult proposition. Because the game of craps offers several bets which deliver the lowest possible edge for the house, many online casinos simply opt not to allow playing craps as a wagering requirement for bonuses. They prefer to have you play at more difficult and riskier games to meet their bonus match regulations, ensuring that they have a better chance at coming out a winner.
It's understandable to be honest. If casinos didn't have terms and conditions such as this, you'd have players manipulating the system and betting on both red and black in roulette in order to meet the wagering requirements, then cashout the bonus profit.
How To Use Standard Deposit Bonuses To Your Advantage When Playing Craps
That being said, the move here is to take advantage of any of the incredible welcome bonuses featured in the table above, and meet the wagering requirements the old fashion way. That is, give them good action and it's 50/50 you will end up with some profit. If you're profitable, simply head over to the craps tables and start betting.
American Players And The Legalities Of Playing For Real Money On The Internet
Knowing which websites allow you to play legally as a US resident, while also offering the most exciting 3-D videos and graphics, is important as well. The rush of a Las Vegas style USA craps casino is as close to reality as possible when you receive the Realtime Gaming (RTG) experience.
Widely regarded as the industry-standard in delivering cutting-edge visuals, audio and the fastest, most reliable software and game play, playing craps on RTG sites is a hit.
Laws That Apply
We've been doing a lot of research lately because we know it's a gray area, and wanted to reaffirm just what is or isn't legal. In our research, what we've found is that because there are no federal laws against online casino gambling in the United States, players are free to play as long as the site they choose is located offshore.
Most of the gambling laws actually target the banks that process the transactions, but not American players themselves as stated by legalbettingonline.com
Enjoying some real money craps from your desktop PC, laptop or smartphone can be a very enjoyable and rewarding experience. And when you play at exciting and reliable online casinos, grab the best possible US craps bonus package, and get started with a craps free play practice mode, your risk is limited and your experience accentuated.
Residents and travelers to the United States who enjoy Las Vegas style casino entertainment can now immerse themselves in that same experience online, and USA online craps offers the best virtual casino odds that can be found on the World Wide Web. Players who are brand new to the game will want to review our guide on craps rules before heading over to one of the trusted craps casinos below.
Craps Rules – How To Play Craps
The Come Out Roll – Establishing A Point Number
The first roll in any round is called the Come Out roll, and you will know when this roll is about to be placed, because you will see a black puck with the word "Off" located near the Don't Come Bar. The rules for playing craps online say that you must then place at least a table minimum wager on the Pass or Don't Pass lines, also known as the Win or Don't Win lines.
Field And Proposition Bets
At this time you can also place Field bets, Proposition bets and others, but these are not required. When you press the Roll button, the virtual dice are thrown, and this is known as the Come Out roll. If you have placed a wager on the Pass Line, here is what happens next.
After The Come Out Roll
If the Come Out roll is 7 or 11, the bet wins. If it is 2, 3 or 12, the bet loses (this is known as "crapping out"). If the roll is any other value, then that number is the Point which has been established for all other betting this round. After that point has been established, craps rules states that if you throw or roll that point again before a 7 is thrown, your Pass Line bet is a winner.
However, the opposite is also true. If you are playing the Pass Line and a 7 is rolled before the established point is thrown again, you lose your bet (meaning you suffered a "seven out"). The Pass Line bet always pays even money.
The Don't Pass Bet
As mentioned above, rules for playing craps are all based on establishing a point, and most bets play off of the Pass and Don't Pass wagers. If you decided to place a Don't Pass bet on the Come Out roll, you win if it is a 2 or 3, and lose on a 7 or 11. A 12 is a push (tie), and the virtual dice continue to be rolled until either the point or a 7 is rolled. If the 7 comes first you win your Don't Pass bet, and if the point comes first you lose.
The Don't Pass Line bet always pays even money. These are the two most basic bets, and the easiest to understand the craps rules for. After a 7 or the established point hits, that round of betting is over. Bets are paid or collected, and the cycle starts anew.